HOLIDAYS IN MAJORCA: THE MOST BEAUTIFUL THINGS TO SEE.
FROM THE CITIES TO THE BEACHES, ALL THE PLACES AND ATTRACTIONS NOT TO BE MISSED.
HOLIDAYS IN MAJORCA: THE MOST BEAUTIFUL THINGS TO SEE
USEFUL TIPS BEFORE LEAVING FOR MALLORCA
1 If you plan to reach the island by ship, the best thing is to spend the night on the ship so you can play holiday days. Ferries leave only from Barcelona and Valencia.
Rely on this site as I did, compare the best prices and times: https://www.directferries.it/barcellona_traghetto.htm?&utm_source=google&utm_medium=cpc&gclid=Cj0KCQjwgezoBRDNARIsAGzEfe4DNcDl3Hw7_jhdfk3dYWMIm3F1AHXFrV-ScSa1c063SHpgqv_Sg0aAo8_EALw_wcB&gclsrc=aw.ds
If you need a flight instead: https://www.skyscanner.it
2 Majorca is a not very big island, the roads are very beautiful and wide and you can easily turn it from north to south, visiting all its beauties. I advise you to rent a car or even better if you travel in August, a scooter, to avoid queues at the entrance of the most famous beaches.
3 If you want more social life, stay in the beach areas around Palma de Mallorca, like magaluf which is an area suitable for very young kids looking for crazy fun. Otherwise if you love holidays that are not too crowded, but fun, then the rest of the island will do for you.
4. Sun beds and umbrellas cost on average 15 euros for two.
5. I recommend you to stay in Palma de Mallorca, Alcudia, the most splendid cities of the island. Or in the east of the island because the places here offer more quiet locals, shopping and entertainment, as well as the proximity to the most beautiful beaches to see.
6. If you're looking for a place to shop, don't miss the Palma de Mallorca Fun, a huge outdoor shopping space that's really rich. Here are the shops: https://www.fanmallorca.com
Mallorca has some wonderful sandy beaches accompanied by a crystal clear transparent and green sea.
Wherever you go you will definitely not be disappointed. The advice, however, is to go to the beaches that I recommend. In some beaches named as the most beautiful, you can not even access in the busiest periods of the season because they are many small. For example Cala des Moro, beautiful but too small. The only way to find a place and go there at dawn.
A LIST OF THE MOST BEAUTIFUL BEACHES NOT TO BE MISSED
Cala agulla
This wild-looking beach is crazy, you will also find umbrellas and sunbeds and a bar beyond a super-clear sea.
Cala Mondragò
Inside the Mondrago natural park you will find these 2 bays attached .. very crowded in the summer months, but very extensive and with an incredibly green sea! Also here it is possible to rent sunbeds and umbrellas and kiosks to eat.
Cala masquida
A beach that leaves you speechless. Especially on windy days and rough seas. the view from the beach bar is something unforgettable,
Cala Varques
After a short walk you reach this hidden paradise. A beach with an emerald green sea. This beach has no sun beds and umbrellas, nor bars.
Playa de Sa coma
A beach of fine sand and transparent sea with shallow water for many meters. Sun beds, umbrellas, bars, restaurants and shops 100 meters away. Less known and super recommended.
Playa Can Picafort
Beach equipped with beautiful sea and restaurants on the beach.
Playa de Muro
Long beach of fine sand and shallow water. Equipped.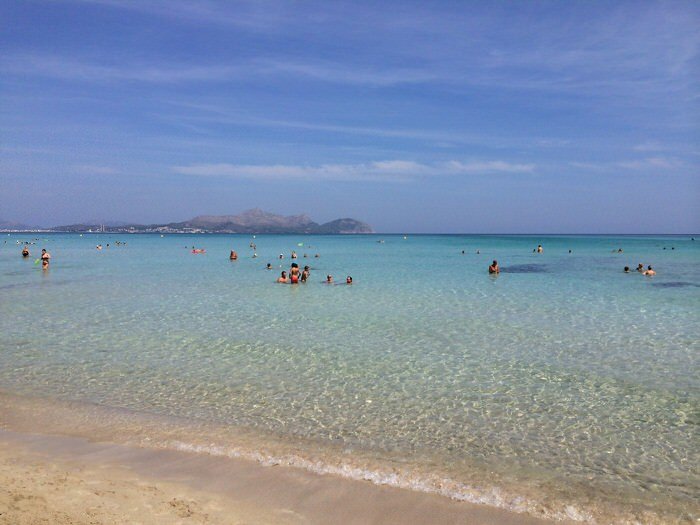 Es Trenc
One of the most crowded beaches on the island. Near Palma de Mallorca. Very white sand and crystalline green sea. Free and equipped and numerous bars.
Places and attractions not to be missed
Palma de Mallorca with its wonderful cathedral ..
Alcudia is the place more beautiful for me than Majorca. I loved his streets, walking over the stone walls that surround the city, the colors of houses, plants and shops.
Valdemossa
The most beautiful village in Mallorca. A truly characteristic village …
Soller and his Port
A very characteristic place, with its beautiful harbor and the legendary seller train that crosses the most beautiful landscapes of this area …
The caves
In Majorca there are numerous excursions to do to visit its wonderful caves. Here are the five caves to visit on the island.
Cave del Drago, Grotte Genova, Grotte artà, Gotte di campanet, caves of hams,
Cap de formentor
The promontory of Formentor is the northernmost point of Majorca, characterized by curves and hairpin bends with numerous observation points, among which the most beautiful is surely the Mirador des Colmer
Here are the most beautiful things to see for your holidays in Majorca. Let me know what you think…