[:it]
4 e-commerce sites that you absolutely must know for your trendy shopping!
Quando prezzi low cost

,

qualità e unicità si uniscono

.
4 e-commerce sites that you absolutely must know for your trendy shopping!
La passione per la moda, per i colori, per le stampe, le nuove collezioni ci portano costantemente a cercare dei capi esclusivi che ci facciano sentire davvero femminili.
Non sempre nei negozi si riescono a trovare capi ricercati che corrispondano ai nostri gusti o esigenze.
In questi anni mi sono imbattuta in diversi siti e-commerce che utilizzo spesso per fare i miei acquisti e che si confermano secondo me i migliori del momento…E sono tra l'altro i più utilizzati dalle fashion bloggers più famose.
Propongono capi low cost, alla portata di tutti, di qualità e sopratutto super alla moda e sempre al passo con le nuove tendenze.
La scelta è davvero vastissima e i capi pazzeschi permettono di creare dei looks davvero esclusivi e super cool in ogni stagione!
Bohoo
From the 2006 la moda donna di bohoo è al passo con le tendenze moda e ogni giorno vengono caricati sul sito circa 100 nuovi capi! Abiti, giacche, gonne, top dai colori e i tagli moda più attuali. E' il sito più pubblicizzato del momento dalle influencer italiane.
Shop low cost
https://shoplowcost.co.uk/collections/ultimi-arrivi
Tutto ciò che ti serve per cambiare il tuo guardaroba, spendere poco e avere un look da star.
Essere fashionista significa respirare moda e vivere di tendenza. Questa è la filosofia ShopLowCost.
Tra i più grandi e-commerce italiani di moda, vanta più di 5 anni di esperienza.
Stile e dettagli privilegiati.
Shein
https://eur.shein.com/?&ici=eur_tab01
L'azienda è specializzata principalmente nel prêt-à-porter femminile, ma offre anche abbigliamento maschile, abbigliamento per bambini, accessori, scarpe, borse e altri articoli di moda. SHEIN si rivolge principalmente all'Europa, agli Stati Uniti, all'Australia e al Medio Oriente, ma anche ad altri mercati di consumo. Il marchio è stato fondato nell'ottobre 2008.
Uno degli e-commerce di moda più grandi al mondo.
Adoro la qualità, e la possibilità di acquistare sempre capi particolari e unici a prezzi davvero low cost! E promozioni e sconti sempre attivi!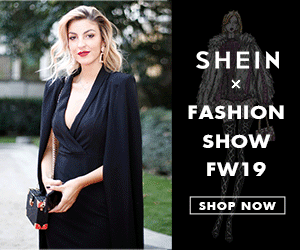 Loavies
Ogni settimana danno il benvenuto a nuovi stili aggiornando la collezione con capi ultra ricercati e alla moda. Amo lo stile e le forme di questi capi perchè i dettagli sono molto ricercati e riescono a fare davvero la differenza.
[:]